A make and more vintage finds
Smocked sundress #3 was sewn up this evening (see version #1 and #2).  This one is a present for a school friend of Miss A's who turns 7 on Friday.  It's the same friend who loves the knit racerback dress I made her last month.
This dress is a quick and easy make that allows the fabric to feature.  In this case, it's a lovely voile from Joel Dewberry's Heirloom Collection titled Ornate Floral in Amethyst.  I purchased this fabric 18 months ago from Hawthorne Threads (they have a great collection of voiles) and it's still available and currently on sale.
I had some more vintage find when my Dad and I attended the Ballarat Antique Fair last Saturday.  Dad and I share a passion for collecting hand painted Royal Doulton pottery from the 1920s and 30s.  The pattern I collect is accurately and unimaginatively titled 'pansy'.  And yes, it's another expensive hobby!
On Saturday, I added a small coffee pot and a miniature vase to my every growing collection.
Two vintage patterns also came home with me.  It was the v-neck (view D) in Vogue 6601 that took my fancy.  I will be interested to see how those darts from the side waist to the bust apex turn out.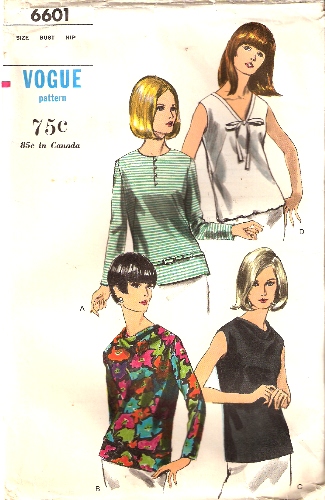 Image Source:  Vintage Patterns Wiki
A square neck with sleeve and bottom hem ruffles (view B of 7014 Home Journal)…  I'm think I'm game enough to try it one day, would you be?
And finally, some glass beads (photographed wrapped around my wrist!).  I've always had a love for colour and all things square…