Venice
If you haven't worn any sort of animal print ever before in your life, it makes perfect sense to wear it from head to toe…  am I right?  Well, that is exactly what I did!
This is StyleArc's Venice Knit Dress in a 'zebra meets snow leopard' digitally printed ponte from The Cloth Shop.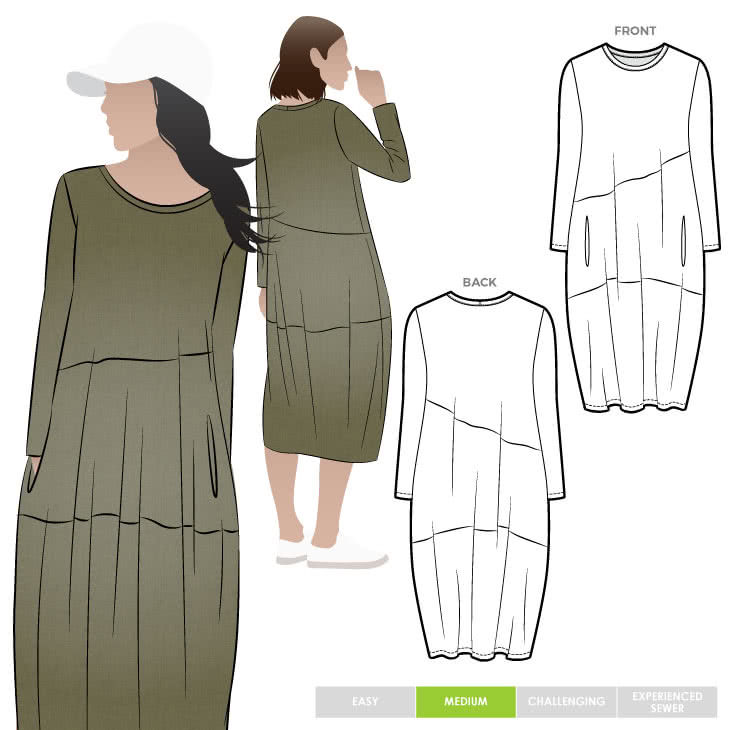 The pattern was designed for drapey fabrics, so I was pushing the boundaries with my fabric choice, but I think I got away with it.
The defining feature of this pattern is those pockets.
Those 'I can't help but slide my hands into' pockets!  They were satisfying to sew too… which is always an added bonus.
For this dress, I altered the neckband construction method and narrowed the width of the neckband by 3/8″ (1cm) to suit my thicker fabric.  It took all my will power not to twin needle the neckband seam allowance to the dress.  I usually follow this step for all of my tees, but I was worried that the thicker fabric might cause some unnecessary broken twin needles, so I skipped it.
When I look at these photos I'm still not sure if this dress is 100% me.  It's actually not the fabric, or overall style, but in fact the length of the dress.  I'm so used to wearing dresses above me knees!  Has it stopped me wearing it?  Absolutely not.  This dress is warm, comfortable and a lovely change from wearing jeans in cooler weather.  Did anyone say 'secret pjs'?
Pattern:  StyleArc's Venice Knit Dress
Size:  10 (if I sewed this again, I would make the size 8)
Fabric:  Digital print ponte from The Cloth Shop
Alterations:  Changed the construction method for the neckband and reduced the neckband width by 3/8″ (1cm) to accommodate my thick fabric
Outfit:  Tights and boots from Obus, scarf from Scarlet Jones and earrings from egetal (a birthday present from my generous Mum)
Photo Location:  Maranoa Gardens