Meet Barry… a cousin of Bob
StyleArc's Bob Pant is a well loved pattern on socials… this is StyleArc's Barry Pant which is affectionately known as Bob's cousin.  Barry has a slightly less ballooned leg than Bob and features elastic waist with top ruffle, angled pockets, front hem dart and faux fly.  If you'd like a review between the two patterns @jessamyb has you covered.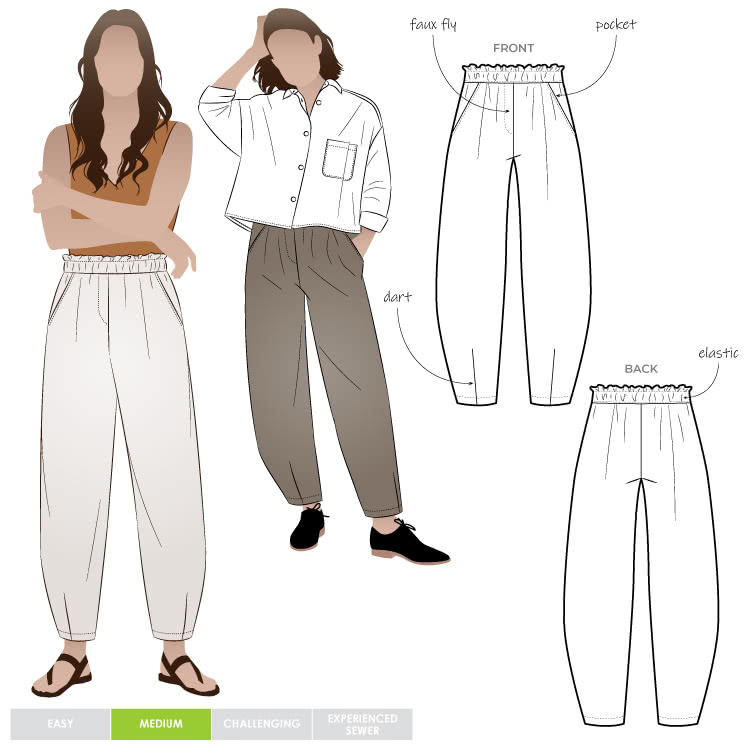 Those who have been following me for a while know that I rarely sew pants/trousers or any garment for my bottom half.  Dresses, shirts and tops are my comfort zone.  After talking about it for several years, I'm actually taking action, and starting my pants fitting journey.
Rather than toiling in calico, I sewed a straight size 10 in a mid-weight washed linen as a sample at work.  The straight size showed me that I needed to increase both the front and the back rise.
Crotch length is such a funny thing to be talking about, but when it comes to pants fitting it's a must.  After talking to my pattern making friend this week, I found that the industry standard crotch depth for a size 10 dress form is around 70cm (27.5″).  Armed with this information, I then tied a narrow piece of elastic around my waist and measured my crotch length.  I wasn't surprise to learn that it was 73cm (28 11/16″).  I think increasing the rise on pants is going to be a common adjustment for me.
The crotch length measurements discussed above, were of course after I had altered these pants.  Guided by a professional dress making friend (I'm so lucky to have such clever friends!), I added a wedge to the front rise that was 1″ (2.5cm) at the centre front and 1/2″ (1.3cm) and the side seam… and trued as required.  I also added 1/2″ (1.3cm) to the back rise.  The results… pants that happily sit on my waist.
Now to the back view…
Bums… another tricky part of pants fitting!  I know that I have a flat bottom… and I made no allowance for it in this pattern.  Firstly, I didn't want to be fooling around with too many changes at once, and secondly, these are elastic waisted pants with ballooning legs.  A little extra 'seat' fabric isn't going to harm anyone!
I'm also very conscious of over fitting… so, I'm going to wear these for a while and then decide if I need to make any further alterations to the pattern.
The fabric is a micro houndstooth linen purchased a few summers ago from The Cloth Shop.  The houndstooth kind of reads black and white, but I swear it's actually french navy and natural.  Whatever the colour, it's a great neutral and pairs beautifully with both plain and printed tops.  In these photos, I'm wearing a Calyx Smock.
Pattern:  StyleArc's Barry Pant (purchased from work)
Size:  10
Fabric:  Deep stash micro herringbone linen via The Cloth Shop
Alterations:  I added a wedge to the front rise that was 1″ (2.5cm) at the centre front and 1/2″ (1.3cm) and the side seam… and trued as required.  I also added 1/2″ (1.3cm) to the back rise.
Outfit:  Calyx Smock, borrowed vintage beads from Sharon, recently resoled mustard wedges and sunglasses from Luisa.
Photo Location:  Ballarat