#isewlation2020 : Eme
Before I talk sewing, I need to warn you that I don't naturally tan or use fake tan, so white milk bottle legs (as my friend likes to call them!) are out and proud in the following photos.
This is SytleArc's Eme Dress which I sewed during lockdown last year.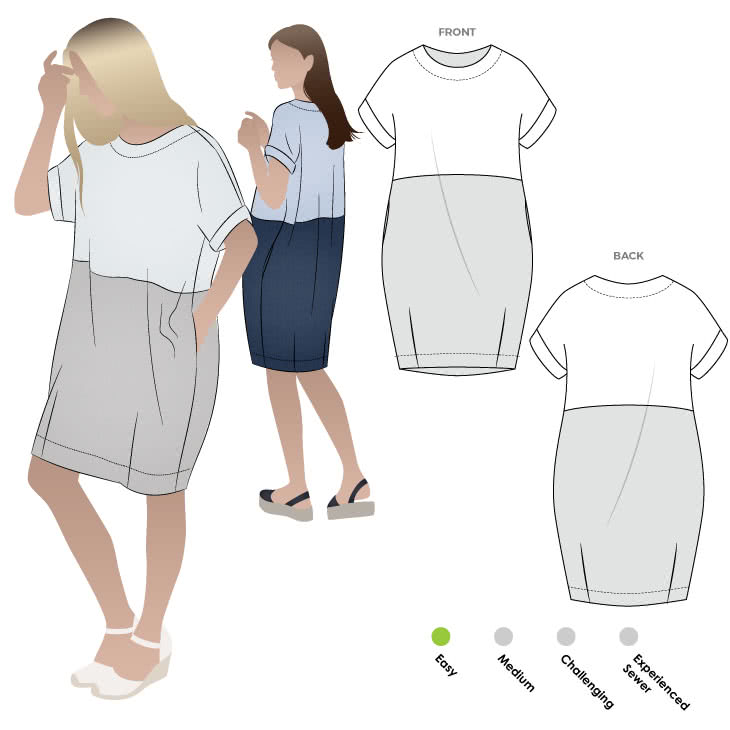 This is one of those dresses that I put on and instantly feel great in.  Perfect for wearing to work with a statement necklace and/or shoe or throwing on with a sandal and running errands.
The skirt part of the dress features some lovely long darts creating the fun cocoon shape.
The fabric was purchased from The Cloth Shop 18mths ago… so they are both long sold out.
The bodice is a Nani Iro double gauze and the skirt a lovely medium-weight linen which matches the print perfectly.
My modifications included a forward-shoulder adjustment, lowering the neckline by 1/2″ (1.25cm), leaving off the pockets and shortening both the bodice and the skirt  by 1″ (2.5cm).
Pattern:  StyleArc's Eme Dress
Size:  8
Fabric:  Nani Iro double gauze and linen [both long sold out] from The Cloth Shop.
Alterations:  Completed a 3/8" (1cm) forward shoulder adjustment, lowered the neckline by 1/2″ (1.25cm), left off the pockets and removed 1″ (2.5cm) from both the bodice and the skirt of the dress.
Outfit:  Sonia Rykiel beads and shoes (purchased for Melbourne Frocktails 2018) from Preston Zly
Location:  Eastern Suburbs, Melbourne