That holiday feeling
Mum and I hadn't been on holiday together for over 20 years, so in 2020 we booked to spend a week on an island in the Whitsundays.  Covid had other ideas, so our 'Corona Postpona' holiday happened in April this year – two years after our initial booking.  I sewed two dresses to take with me on our trip… including this jersey dress which is based on a tee pattern.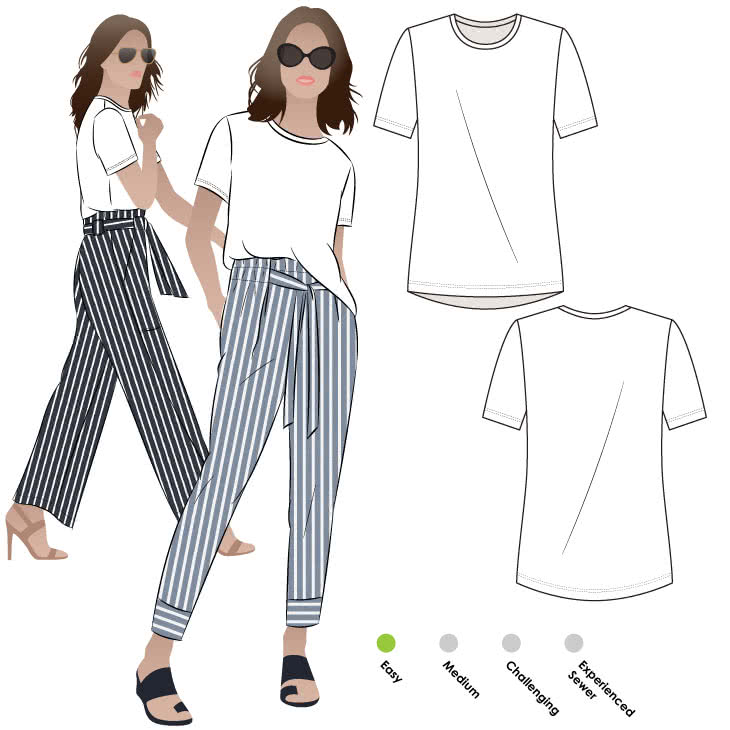 My base pattern was StyleArc's Gem Knit Tee.  It's a little more tight fitting than the line drawing suggests, so just keep that in mind if you are considering this pattern.
I sewed the size 10 and I do feel like the 'ladies' are on display a little more than I'd like even though I added 1/4″ (6mm) to the side seams!  Next time I might use the Peak Tee from Wendy Ward's book 'A Beginners Guide To Sewing with Knitted Fabrics' which I've sewn here before.
Turning my tee pattern into a dress involved a little bit of maths, as well as some measuring of garments in my wardrobe.  I didn't want too many gathers, so I didn't use the formulas you often see online for the gathering ratio of dress tiers.  The ones that go something like this…
first tier… bodice measurement x 1.5
second tier… first tier measurement x 1.5
third tier… second tier measurement x 1.5
Instead,
I measured the width of my front and back bodice pieces and together they equated to 92cm
I wanted the hem circumference to be the same as my jersey Hope Dress – the measurement was 150cm
I decided that the rounded mid point between the bodice and the hem circumference was 120cm
Therefore, my first tier was 120cm wide (or 60cm cut on the fold) and my second tier was 150cm wide (75cm cut on the fold).
Selecting the length of the bodice involved putting on a tight fitting tee and measuring from my underarm to my waist, which was 7.5″ (18.75cm).  I borrowed the curve of StyleArc's Hope Dress front and back bodice as I know from Mie's indepth Wilder Gown post, it translates to straight lines on the body.
The length of each tier was determined by the desired finished dress length, minus the bodice length with seam allowances and a hem allowance.  My first tier ended up being 14.5″ (36cm) and the second 16″ (40cm).
This is the point where I wish that I possessed some graphic design skills to draw a diagram for you!
The dress was constructed on my overlocker and coverstitch machine… except for the gathering.
The end result is a very comfy, easy to throw on dress that will get heaps of wear in the warmer months.
Pattern:  StyleArc's Gem Knit Tee
Size:  10
Fabric:  Cotton/Spandex Jersey from The Cloth Shop (in store only)
Alterations:  Completed a 3/8" (1cm) forward shoulder adjustment, added 1/4″ (6mm) to the bodice side seams, shortened and shaped the bodice hem and added two gathered tiers (as outlined above).
Outfit:  Liberty silk scarf (gift) and as new second-hand funkis shoes (5+ years old)
Location:  Eastern Suburbs, Melbourne