KCWC – Cowlneck Jumper Dresses
Exhibit 2 & 3 for Kids Clothes Week Challenge : Heidi & Finn's Cowlneck Jumper Dress (x2)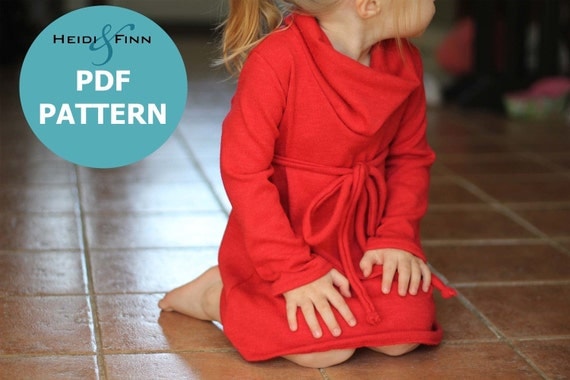 I've made a few of these already (sans the tie) and my girls love them.
Today's versions are for Miss B.  The fabrics were purchased from Earthgirl Fabrics and have since sold out.  The floral fabric is a Stenzo cotton/spandex and the Russian dolls is a Hilco sweater knit which is really warm and cosy.
For both dresses I used extremely fine straight stay tape for the shoulder seams.  It was my first time using this product (I'd been a cotton twill kind-of-a-girl beforehand) and I love it!
I've never had much luck with the hems on knits.  Even when using a twin needle they always stretched and went wavy (not good).  After a bit of research (ie. reading loads and loads of blogs and devouring everyone's tips for working with knits) I invested in some Vliesofix T6 and some extremely fine fusible knit stay tape.  I used a different product for each dress and had fantastic results with both.  I'm saying good-bye to wavy hems – YAH!
These dresses are a little on the big side, but I just call that 'room for growing'.
Did you notice that I left the cowl off the cowlneck jumper dress?  This was a request from Miss B.  Instead of the cowl I added a neckband.  Jorth has a great tutorial on the method I used.
Right, what's next on my KCWC list?