A tee for every day of the week… Monday
Briar, Briar, pants are on fire!  Right, now I've go that out of my system…
I've sewn Megan Nielsen's Briar Sweater and T-shirt pattern a twice before.  Since then, my style has moved on from the exaggerated high/low hem of the pattern, but I knew that the fit at the shoulders and bust was great for me, so I decided to have a play around with the hem and the neckline.  The result, a very wearable garment.  Hip hip hooray!
When I'm hacking patterns, I find my Curve Runner Measuring Tool is invaluable.  No affiliate links my friends, I'm just telling you about a tool I love and adore!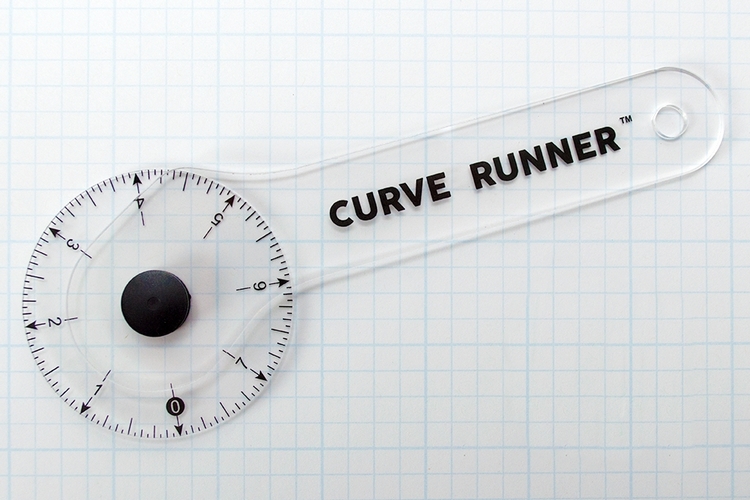 Are you familiar with this tool?  The Curve Runner (available in inches or centimetres) is a rolling ruler with measurements marked along the edges.  To use, you place the starting point (ie. zero) at the beginning of line to be measured, and then start rolling it along the line's length, making sure you kept count of how many times it makes a full revolution.  It's so much easier than wrangling a tape measure around curves!
For this project I used the Curve Runner twice.  Firstly, after hacking the hemline, I measured the sides seams on both the front and back pattern pieces to ensure they were the same length.  I also raised the neckline on this tee by one and a half inches (4cm) and I used the Curve Running to measure the length of the redrafted neckline to help me determine the size of the new neck binding piece.
For this Briar, I used an Art Gallery jersey (95% cotton and 5% elastane) called 'Threaded Shreds Knit in Mamey' which I purchased from Kelani Fabrics last year.  The fabric is soft, it was easy to sew and of course I love the colour palette.
The verdict… I'm going to get a lot of wear out of this long sleeve tee!
Pattern:  Megan Nielsen's Briar Sweater & T-shirt Sewing Pattern
Size:  Small
Fabric:  Art Gallery jersey (95% cotton and 5% elastane) called 'Threaded Shreds Knit in Mamey' purchased from Kelani Fabrics (sold out)
Alterations:  I omitted the pocket, raised the neckline by  1.5″ (4cm) and significantly altered the hem
Accessories:  Japanese scarf from Scarlet Jones and boots from Florsheim